One of the most popular features in the teacher's portal is giving homework online with one click and evaluating it directly. But not only do teachers benefit from this feature: students can also complete their homework digitally and from anywhere. As soon as a teacher gives a homework assignment, students receive a notification on their smartphones.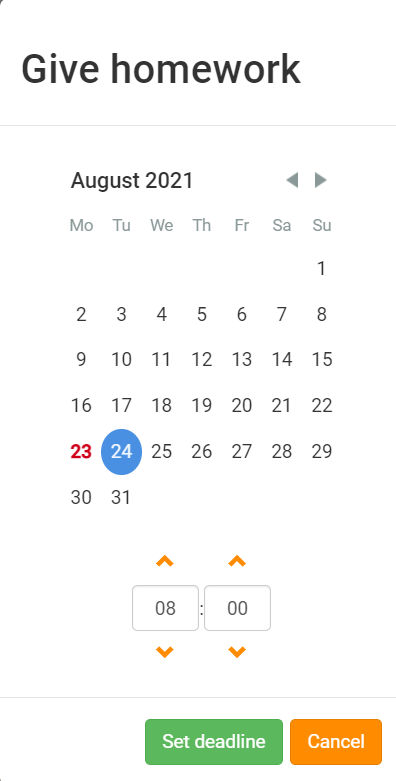 This is how you give homework online:
In the teacher's portal, click on the respective course or book in which you would like to give a homework assignment. Under "Content, Homework" you will find the table of content (and all the answers to the questions). Next to the quest, you will find an hourglass. Use it to give the homework. When you click on it, a calendar appears where you can set the deadline – and voilà, your students receive a push message on their smartphone.
Doing homework
Students receive a notification on their smartphones when a new homework assignment is posted. Next to the quest, they will also see the hourglass. The symbols have the following meanings:


Correct homework and evaluate it with one click
Under "Content, Homework" you can keep track of how many students have already completed their homework. For a more detailed evaluation, click on the linked number. Here you will now see a list of all students, the achieved acorns, and the levels. On the far right, you will also see the respective status of the homework.
Create your own courses
If you want to write and teach with your own learning materials, you can write your own course with eSquirrel. With the author's tool, you can create your own content free of charge and without ads. You just need to sign in, switch to the author's tool and start writing your course. Create as many chapters with quests and questions as you like. Publish it and create a new class in your teacher's portal. To learn more, check out our step-by-step guide.