EdTech products tailored to your ideas: With established eSquirrel quality!
When it comes to realising your ideas, having a custom software developed is often the best solution. We bring years of experience in the EdTech sector to the table and develop your product with our competent software team.  Our experts will be happy to advise you on your application requirements.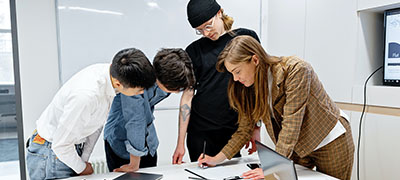 Custom-fit planning of the individual software
Our planning begins with a collaborative analysis of your wishes and requirements. We advise you on your options and outline a proposal. In doing so, you can rely on our expertise in the EdTech sector. We advise you on the user experience and the use of software in the education sector.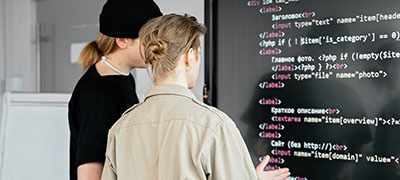 Quality through intensive testing
To ensure that your software can survive in the long term, all components of the software are tested in detail. For optimal maintainability of the software, we focus on detailed documentation and traceability for other developers.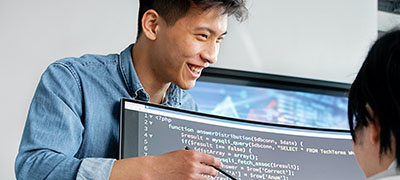 Top project management for outstanding software
Thanks to structured working approaches and seamless communication channels, we can implement your requirements in a targeted and reliable manner. However, our paths do not part with the release of the software: we will continue to be there for you in the future for further developments and support.
Our most recent implementation
GEOTHEK – Mehr!-Lernservices
Blasius the editor of the first school atlas published by Hölzel, talked about the importance of cartographic work in the classroom over 150 years ago. To this day, however, the atlas is often only used for "finding" or "searching".
Atlases are an information medium that offers more: Not only can they extract information, they can also discover spatial structures, verify geographical theses, create new maps or transfer the map to other representations. Cartographic work is undoubtedly one of the typical geographical methods of geography and should therefore be given priority in pedagogy. In the Austrian curriculum, map competence is firmly anchored in the educational plan.
Hölzel publishing house has defined the following eleven levels of classification for atlas work:
Search: Within a given number of maps, signatures with a given property are searched for, e.g. for a name or for a feature.
Reading: Information on individual markers is taken from predefined maps or map sections.
Measure: The geometry (position, distances, area sizes) of objects is measured, in an extended sense also topological features.
Planning: Planning tasks are optimization tasks, e.g. finding a way or an optimal location for a business. Their complexity can therefore be very different, the method was nevertheless defined as an intermediate level because it is mostly applied in the school environment in the sense of reading a city map.
Compare: Comparing map sections of different regions. 
Recognition: In the sense of pattern recognition, distributions or spatial patterns are detected here.
Describe: In contrary to reading, not only individual signatures are considered, but also their areal relations.
Types: Formation of object types by deriving signature features and combining features such as values classes, categories, or types.
Delimit: Space types are defined and delimited based on typical mixtures of object distributions.
Correlate: Different geographical phenomena can be spatially correlated in the sense of "where one thing is, there is (often) another". By comparing and evaluating different thematic levels, such spatial correlations are revealed.
Sketching: Maps are simplified mentally or by drawing in order to reveal essential spatial patterns. The graphic result is a map sketch or, using a French expression, a "croquis".
(viz Hölzel Verlag) 
Implementation with eSquirrel
The publisher also offers a wide range of additional materials for geography lessons. Together with eSquirrel, these have been expanded to include a digital and interactive component. The Geothek was expanded to include a contemporary solution. 
The software offers users a completely new experience that works not only on computers but in the future also on smartphones and tablets. Thanks to the newly designed and developed user interface, end customers can look forward to a new design, perfectly adapted technical implementation, and mobile-optimized application.